Alan Fitzpatrick – Friday, January 20th @ Sullivan Room
The UK's Alan Fitzpatrick finally comes to New York. Check out this Q&A with the techno powerhouse from Southampton.
Hailing from England's Southampton, the UK's Alan Fitzpatrick is quite simply one of the most exciting and dynamic artists in the techno world today. In the span of just a few short years, he has rocketed to the top of the heap of the techno elite – and anyone who has heard his music, or his DJ sets, can understand why. Crackling with a raw, unsettling energy, Fitzpatrick's tracks conjure up the darker side of techno, powering the dancefloor with hypnotic rhythms, growling basslines, and powerhouse percussion. His music has quickly become a favorite of the top DJs and labels worldwide, and he shows no signs of slowing down anytime soon.
This Friday, January 20th, Alan will finally be making his New York City debut when he joins Sleepy & Boo and the Basic crew at the Sullivan Room. In advance of his appearance, he took some time to let us know about his musical roots, his 2011 highlights, his production process and more. We're excited to host this rising star of the underground in an intimate night at Sully.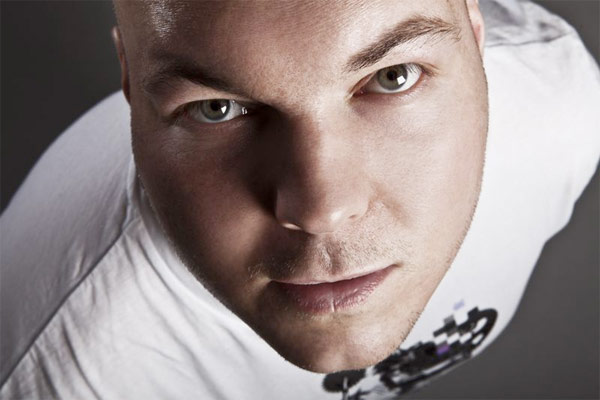 Tell us about how you got your start making music and DJing. What was it that drew you to you the sound and style you're known for?
I got the bug for electronic music pretty early into my teens. Me and my friends would try and get into clubs with our fake ID's just to dance all night and soak up the atmosphere. I think i was about 14 or so when I bought my first set up SoundLab dlp1 turntables. I would spend all my money on vinyl and used to really enjoy hooking up with friends and going record shopping, and swapping records with each other to play. Shortly after my DLP1's I managed to get my 1210's and start doing private parties and things. Over the years everything just spirals I think, you buy loads of gear and then naturally from DJing I wanted to start producing my own music. I think I have been writing around 10 years now. My music taste is massively varied, but when it comes to club music I am a life long fan of techno. However outside of the studio or the DJ booth, I'm listening to everything from The Black Keys to Boy George to Depeche Mode to Michael Bolton 😉
You're from Southampton in England. There seems to be more than a few talented electronic music artists from there. What's the scene like in your hometown?
The South coast has a huge amount of talented producers and Dj's such as James Zabiela, Tom Budden, Rich Jones, Chris Colburn, James Talk, Reset Robot (Dave Robertson), Dave Spoon, Ridney and myself. Thats just a snippet of the guys down here. We are all friends and also a lots of us have grown up together. Sure we are not all doing the same style but everyone has a good respect for eachother and we are all doing well in our own areas. The scene for actually clubbing etc. is quite small, we have a few clubs that are doing good things and I think its all pretty healthy. We are also launching an after-hours Sunday party in March called "Stay up Dancing, Get In Monday", I'm pretty excited about that.
Aside from your own 8 Sided Dice label, you've released quite a few records on Adam Beyer's Drumcode label. What is it like working with them and being such an integral part of that camp?
Honestly, working with Drumcode is perfect for me. I have been a massive fan of the label for many years and its great to now be a Drumcode artist. I have a very exciting future with Drumcode and it really feels like home. Working on tracks with Adam last year was great and I am sure we will be working on a follow up as soon as we can find the time. We have a great crew and the parties where we all get to play together are the best. For most of the year we are all busy touring and predominantly alone, so we when all hook up, we really let our hair down.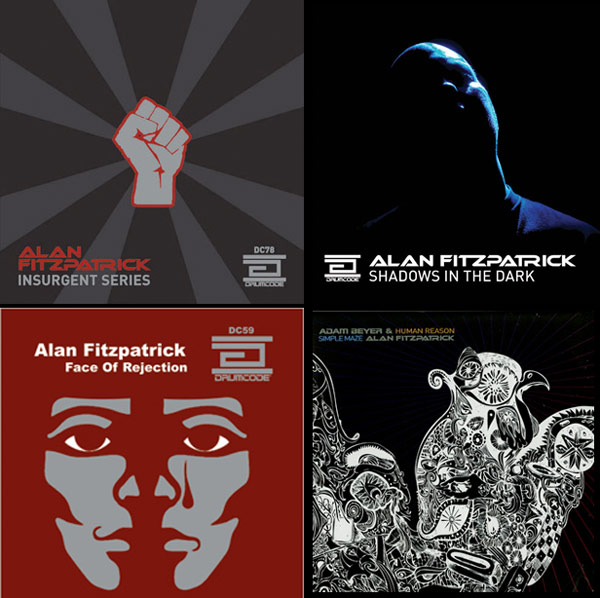 Harder, rawer techno has definitely made a big resurgence in recent years. It seems like more and more DJs are embracing that kind of sound now, whereas it was more of a niche style for quite a while.  Any thoughts on why? What has it meant for you in particular as an artist?
I think everything tends to move in phases, what's hot and what's not. Ultimately techno has always been there doing its thing. I think it's cool that things change and shift around with popularity, it keeps it interesting. Certainly a big plus for me, is that things have slowed down BPM wise. I can now play very varied sets and more between genres easily and it really enables you to take the crowd on a journey.
What's your favorite place to play as a DJ? What were some of your real standout gigs of 2011
A few favourites spring to mind. I really love playing at Fabric in London, easily up there with one of the best clubs in the world. Also Berghain and Tresor in Berlin. The thing about these clubs is not only is the sound system amazing, but the crowds are so educated. You can literally play what you want, take things up, down, sidewards and back again. The crowd will follow you and its like you're all there in the same zone together. I have played all over the world and yes there are lots of fantastic clubs, but the vibe is not always the easiest to capture. That's what makes these types of club the best in the world.
I think last year the standout gigs for me were: Nuit Rouge in Marseille, a crazy big venue and the crowd was intense; Berghain for Drumcode 15 years. As I said earlier the club is special and I was playing with the DC crew, the party lasted three days solid. We opened Saturday night and closed like Monday afternoon. Also Pitu club in Germany with Adam Beyer, not the biggest and best club but the atmosphere was great, me and Adam played the outdoor stage and then when the party finished, we managed to take it into the club and play back to back for several hours more.
Who are some of the new artists and producers that have made an impression on your recently?
Rich Jones and Chris Colburn spring to mind immediately. These guys are making some big waves with techno's elite and I expect big things from them. I play at least one of their tracks in almost every set. Jeremy Olander who is signed to Eric Prydz's label. Jeremy is a Swede and is making some great music. Also I like the music from a very new guy on the southeast: Bryan Chapman. You heard it here first. 😉
Your "Moon Palace" release on John Digweed's Bedrock was a bit of a departure from your usual sound. Talk about that record, and what it's like for you to go in a different direction in the studio?
I did "Moon Palace" because every year, I tend to do a big melodic, summery vibe track. "Reflections" was the single before "Moon Palace", which came out the year before. This track was huge, getting Radio 1 essential new tune and was hammered in the ibiza season. So, when last year came around, I felt it was time to do a follow up and "Moon Palace" was born. I really enjoy doing the odd thing that's different from the usual output, it keeps people guessing and it's also refreshing to experiment I think. Guess that means I have got to do another one next year ha! So watch this space.
I know lots of aspiring producers would be interested to know how you make your music. What's your studio setup like, and how does your particular production process work?
I use Reason, I have done since day one. It's an amazing piece of kit that combines a whole music making and recording DAW. Propellerheads just sent me Reason 6 actually so I'm very excited to get that installed. I also do the odd track in Ableton, which is also superb. I have plans to buy Maschine this year too, I've been wanting to try that for ages. With regards to my production process, I can't just sit there and jam out with stuff…well I could be, I would rarely keep it the following day. I like to sit down and work on the idea that's in my head at the time. It often twists and changes as you're working, but that's a good thing. I also try not to be to limited with things, I'm open to trying as much new things as possible to get the end result. I like to think my techno sound is quite varied in comparison to some people.
What are some of the things you have planned for 2012? And since it is still the new year, any resolutions for you?
Every January I try to not drink. We'll see how long I last this January haha! I swore to myself to try and exercise more this year too. I have recently fixed up my mountain bike so I have been out on that a lot. Looking to start Yoga too. I get married this year too, 31st May to be exact. The wedding will be in Ibiza, very excited about that. Music wise, I have lots of new tracks coming up, A new five-track Drumcode EP will be out in February. I am also working on a new collab with Gary Beck. I plan to release another EP on 8 Sided this year too, along with trying to lock down a studio session with Adam Beyer for a follow up to "Human Reason".
This is the first time you've played in New York City. Anything in particular you're excited about for the city?
Essentially it's just to play. I have been to NYC a few times as a tourist so I know the place pretty well. I love it, it's one of my favorite cities in the world. I am SO excited to finally be playing, I have a great following in NYC and i know there are a lot of people anxious to see me play. I think its going to be a great night. I had to cancel a tour last time due to some unforeseen visa issues, but that's all behind us now and I'll be ready to rock Sullivan Room the only way I know how.
Do you have a recent top 10 or chart for us?
Here is my latest top 10:
1.    Adam Beyer & Ida Engberg – Untitled
2.    Alan Fitzpatrick – Prometheus
3.    Mark Broom – SQ18 Rave-a-Thon
4.    Gary Beck – Argoreal
5.    Adam Beyer & Joseph Capriati – Untitled
6.    Chris Colburn – Wide Awake – Rebekah Remix
7.    Laura Jones – Love In Me – Eats Everything Rework
8.    Kosheen – Hide U Bootleg
9.    Gary Beck – Feel It
10.    EQD – B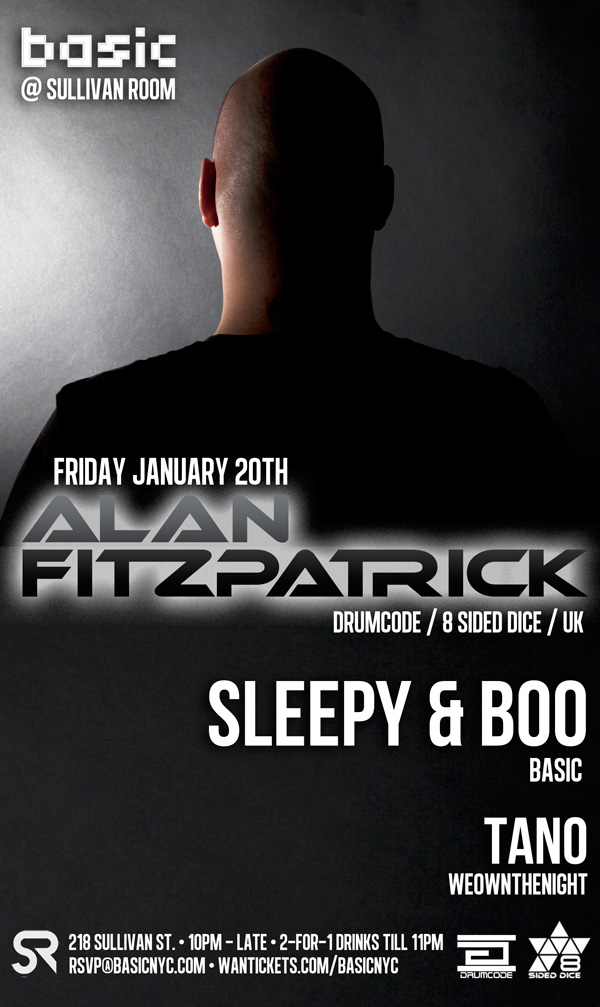 ALAN FITZPATRICK @ SULLIVAN ROOM – FRI. JAN 20TH
PRESALE TICKETS AT WANTICKETS.COM/BASICNYC OR RESIDENTADVISOR.NET/BASICNYC
FOR GUEST LIST + TABLE RESERVATIONS – EMAIL RSVP@BASICNYC.COM